Welcome to Stimulator Sportfishing
Cabo San Lucas Fishing!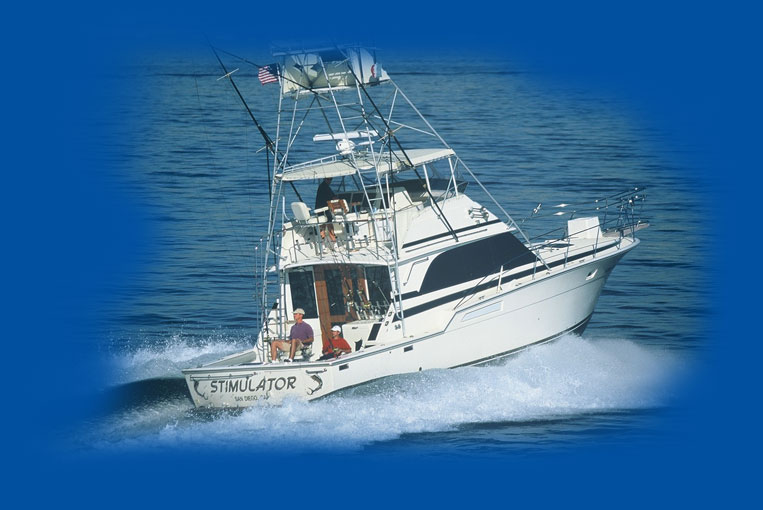 Stimulator Sportfishing

Fishing the waters off  Cabo San Lucas since the mid 90's,  Blue, Black and Striped Marlin, Sailfish, Dorado, Wahoo and Tuna all abound in the azure waters of the Sea of Cortez and the Pacific Ocean off the Baja Peninsula, the best of both worlds! Cabo San Lucas fishing at it's finest!
Fish with Captain Jay Bush and crew aboard the 46' Bertram "Stimulator", known in Cabo and the Baja as a truly professional operation, tournament wins, exceptional catches, wonderful experiences all await you as you fish the Sea of Cortez and the abundant Pacific with Captain Jay Bush and the crew of the "Stimulator" in Cabo San Lucas, Baja , Mexico!!
How it Began
Stimulator Sportfishing started in Southern California, originally running out of Dana Point Harbor in the early 90's.  Running fishing charter trips to the Islands, Catalina and San Clemente for local fish, Calico and White Sea Bass , Halibut and Yellowtail. During the summer months we fished the offshore species that migrated up from the Baja. Yellowfin Tuna, Bluefin Tuna, Dorado, Yellowtail and the elusive Striped Marlin.
Stimulator migrated to San Diego for the summer season after some memorable years in Dana to have a shorter run to the offshore fishing grounds and to get  our clients into Mexican waters quicker.  In our four years running fishing charters in San Diego, we ran 1000 days, that's a lot of Tuna fishing!  The tuna fishing was hot then and 100 fish days for 6 guys was not uncommon! We never came back!
The story of Stimulator Sportsfishing charters continued when we made another migration in the fall of '98 to the waters of Cabo San Lucas, Mexico. The idea was to go there and spend the winter season fishing in Cabo San Lucas for its world famous Blue, Black and Striped Marlin. plus the other pelagic species that inhabit the waters , Dorado, Wahoo and such and then return in the spring for the summer season off San Diego.
Again we never came back!  Stimulator is a 46' Bertram with a hull design that originally set the bar for offshore sportfishers and the fast action fishing off Cabo was what this boat was designed for, we had found our element! We worked on putting our Sportfishing Charter business together  for Mexico, and in the early 2000's luck was with us, we started to win tournaments!  We won the world famous Bisbee Black and Blue marlin fishing tournament in 2001, then turned around and won the WONews Tuna Tournament right after.  Stimulator Sportfishing Charters is only boat to this day, in Cabo fishing tournament history to ever have done that! We still fish the tournaments and have gotten our share over the years with a combined total of over $1,000,000.00 (One $ Million) in Tournament winnings!  Ask us more about our Cabo tournament Charters.
Through the course of our charter history we've catered to all kinds of fishermen, from novice to expert from all over the world.  We enjoy teaching and showing a beginner how to catch his or her first Marlin just as much as we enjoy having seasoned anglers onboard that require no assistance.   Stimulator Sportfishing Charters is an "all inclusive" charter operation. You need only get to the boat,.. food, drinks, bait, tackle, Captain and Crew all await so you have a sport fishing experience you will never forget!
When Stimulator charters first came to Cabo San Lucas, we were one of the two largest vessels available for fishing charters in Cabo.  Today there are many to choose from,   we remain one of the oldest, reputable and by far most professional operations available.  With years of experience, we pride ourselves on offering a personalized service and passion for the sport to guarantee you having a memorable outing!  Captain Jay Bush
Contact Captain Jay Bush today to book your next Cabo San Lucas fishing trip!~.